Find work.
Get discovered.
MUDISCH Pro gives you everything you need to build
a career in art & fashion.
Save Up To 54%
Free
Perfect for talented artists who have just started art.
Sign UP
Classic Profile
Single-shot
10 chances per month in Glorify
Pro
Perfect for artists, studios, and art & fashion teams.
$
7
Per month, paid annually
Get Started
Upgraded profile
Multi-shot & video
Sell goods
Blog
Unlimited chance per month in the Glorify
'Hire me/us' button on all shots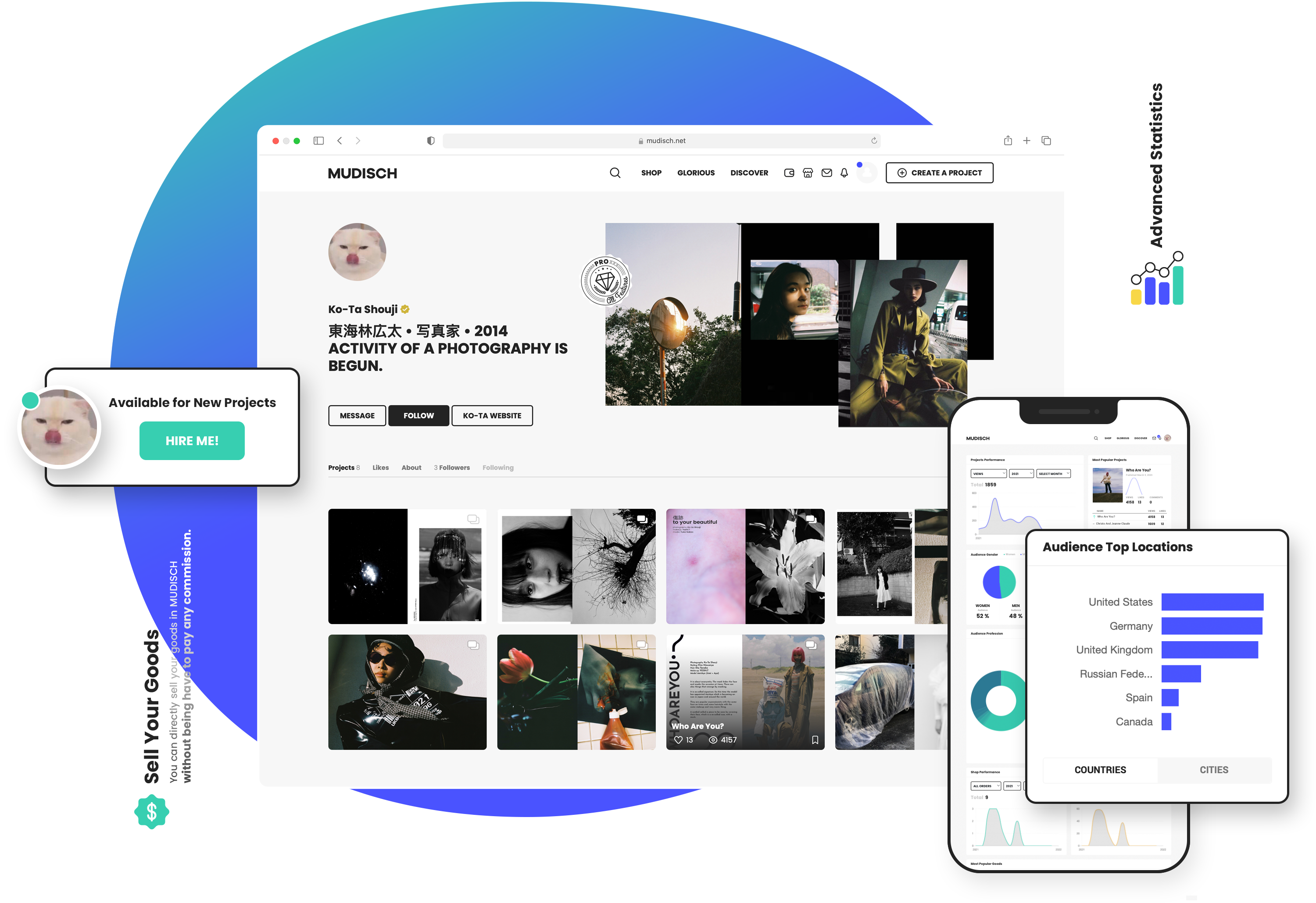 Invest in your art and fashion career
with MUDISCH Pro.
With Pro you get the tools you need to build your art and fashion career.
Whether you're looking to build your portfolio, find your next freelance client or showcase your teams work
We help your art & fashion/business grow.
Build your social portfolio
Unlike a traditional design portfolio, when you share your work on MUDISCH, your work gets seen.

With MUDISCH Pro you'll be able to share videos and multi-shot process shots.
Go Pro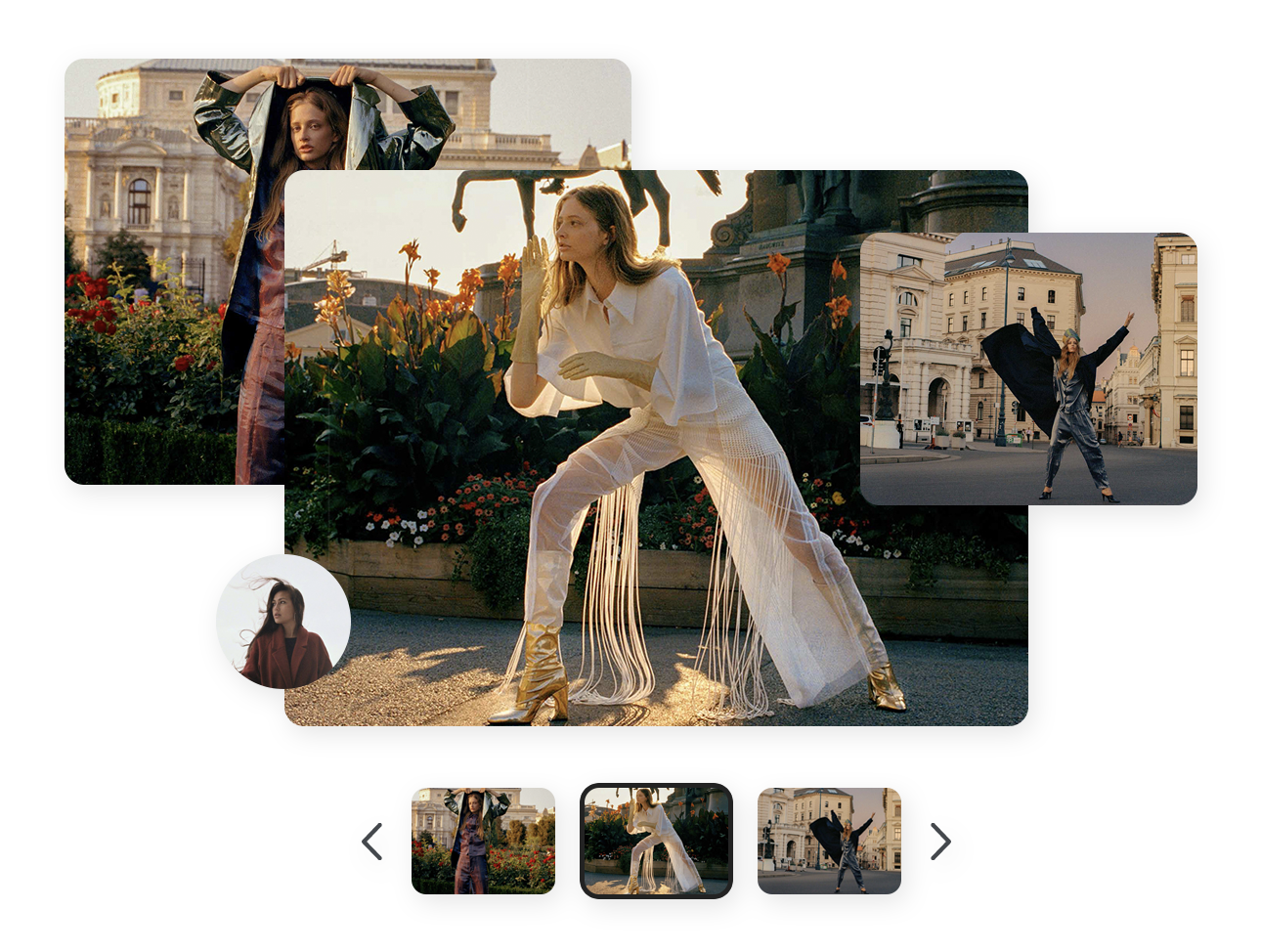 Unlock even more benefits with Pro.
Video
Stand out and catch your next clients attention with video content.
Multi-Shot
Show your art depth by grouping your work into multi-shots.
Templates
Change and customize your profile template with creative templates.
Hire Me Button
Being contacted for work couldn't be easier with Hiring buttons on your profile and all your shots.
Sell Your Goods
Sell directly your arts or link to your preferred e-commerce platform from our 'Goods for sale' content.
Advanced Statistics
Uncover what people appreciate in your work with our in-depth statistics - then give it to them!
Glorify
Access to all features in Glorify platform. Unlimited submissions, workshops, events, etc.
Custom Button
Create a custom button in your profile with your desired name and link.
Attach Files
Share up files, moodboards, retouch filters, and more along with your projects.
You can directly sell your goods in MUDISCH without being have to pay any commission.
The right plan for your career.
Getting started is easy
Choose "Buy Pro" button and power up
your portfolio.
Save Up To 54%
Free

Perfect for talented artists who have just started art.

Sign UP

Pro

Ideal for artists, studios, and art & fashion teams.

$

7

Per Month / Paid Annually

GET STARTED

No credit or invite needed

SHARE YOUR WORK

Upload Shots
Give/receive comments

EXCLUSIVE SHOT ENHANCEMENTS

Video
Multi-Shot
Attachments
Downloadable Assets
Sell goods
Give/receive messages

DESIGN PORTFOLIO

Use creative templates
Use a custom button
No code required
Customizable by you
'Hire Me/Us' button on profile

PLATFORM UPGRADES

Advanced dashboard
Advanced statistics
Unlimited chance per month in the Glorify

WORK INQUIRIES

Receive project inquiries
'Hire Me/Us' button on Shot page

MUDISCH Pro

GET STARTED
Photo by Pablo Heimplatz